Return to Headlines
CHS Spanish IV Students, Teacher Present at Future Readiness Conference
11/15/2023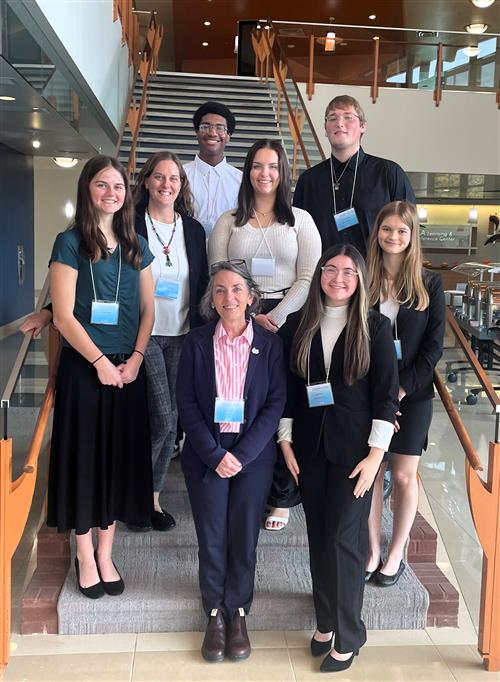 Last month, six CHS Spanish IV students presented a session entitled "Building Future Readiness: STEAM Integration in the World Language Classroom" with High School Spanish teacher Laura Proaño and PSNK STEAM Outreach Coordinator Colleen Smith at the 2023 Penn State New Kensington Future Readiness Conference at the Regional Learning Alliance in Cranberry.
Student presenters included seniors Jocelyn Bielak, Haley Dixon, Alison Gillette, Ella Rittman, London Salter and Connor Watson. "I was impressed by our students' professionalism, preparedness and thoughtful reflections of their learning and future readiness not only during the session they presented, but also while interacting with the other conference participants, including private industry and non-profit leaders, university professors and K-12 educators," said Mrs. Proaño. View their presentation here.
Additionally, the students attended concurrent sessions related to their future career goals, including one on healthcare entitled, "i4.0: Accelerating Change across the Healthcare Industry" and another on community engagement and internships entitled, "Global Goals, Local Impact: Project-Based Learning and Community Engagement AND Rebranding the Internship: Collaborating with Faculty, Students, and Employers." They found the sessions informative and thought-provoking.
Mrs. Proaño also represented Highlands and presented on the opening panel discussion entitled, "The State of K12 and Future Readiness" with Justin Aglio (Executive Director of the Readiness Institute), Colleen Smith and other K-12 educators where they shared how they are preparing future-ready students in their classrooms and beyond.
---
Description of the session the students presented:
Building Future Readiness: STEAM Integration in the World Language Classroom
Explore how Highlands High School students are building their future ready skills and exercising agency as a result of STEAM integration in the World Language classroom and a strong partnership with ABC CREATE. After an introduction to the ABC CREATE and Highlands High School partnership, Highlands students and their teacher will share their STEAM Spanish projects. Participants will see the leveled progression where students not only grow their language skills, but they use them to code Finch and Hummingbird robots in Spanish with more complex computational thinking skills, advanced coding, and design concepts. You will also learn how students develop data fluency by working with huge data sets and interactive maps in EarthTime. Following an overview of the projects, you will review the data on the World Economic Forum future ready skills that students feel they used and developed during the projects including creativity and originality, technology design and programming, and problem-solving and ideation. As you consider how this Content-Based Instruction (CBI) model with STEAM integration can empower students to use the language for meaningful learning across disciplines, you will have the opportunity to engage with the students, their teacher, and ABC CREATE in a panel discussion.