Return to Headlines
Highlands Welcomes Staff for 2023-24 Opening Day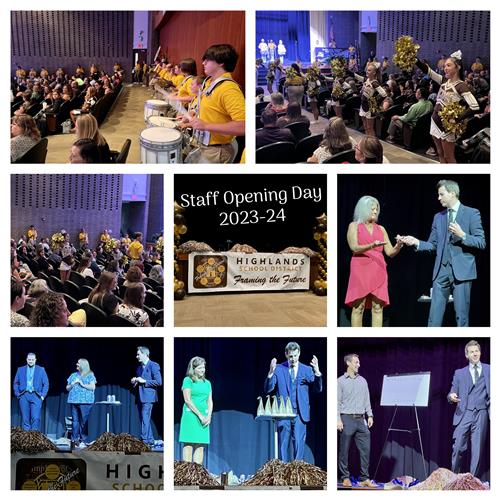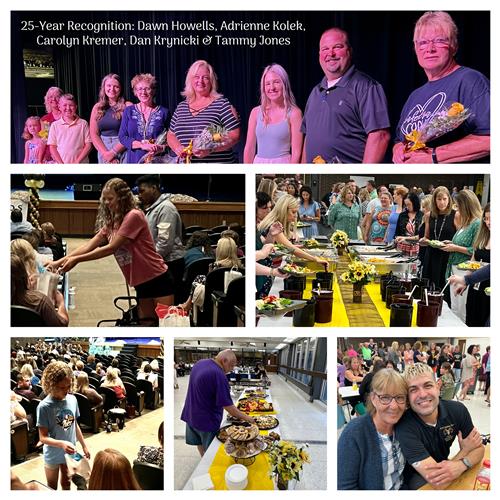 Highlands School District welcomed over 300 returning and new staff to school on Monday, Aug. 28 to kick off the 2023-24 school year! The morning festivities began with celebrating our RAM PRIDE, featuring performances by the Highlands Varsity Marching Band, Varsity Cheerleaders and select High School vocalists.
Speakers included Superintendent Dr. Monique Mawhinney, who reviewed the district's goals and focus for this year; School Board President Bobbie Neese and HEA President Rachel Crowell, as well as Autumn Monaghan and Jaadyn Hughes from The Highlands Partnership Network / The Teen Spot. Students from The Teen Spot program gave each staff member an appreciation gift.
Providing a magical and inspirational presentation for the staff was Pittsburgh master magician, entertainer and keynote speaker Tim Kutch, who has worked closely with the world's top magicians, headlined on the largest stages in Las Vegas, and has been a Finalist on America's Got Talent! Several staff members were chosen to be his lovely assistants (they were such good sports)!
At the end of the morning's events, Dr. Mawhinney and Mrs. Neese recognized the five staff members who were hired in 1998 and are celebrating 25 years at Highlands! Congratulations to Dawn Howells (HES Secretary), Adrienne Kolek (IT/Student Registration Secretary), Tammy Jones (HS Head Cook), Carolyn Kremer (HS English Teacher) and Dan Krynicki (HS Math Teacher)! We appreciate your dedication and commitment to Highlands!
The highlight of the day was the delicious luncheon prepared by the HSD Food Service staff and director Stacey Waffensmith. After lunch, staff participated in building meetings with their principals to discuss goals and procedures for the new school year, which begins Aug. 31 for students.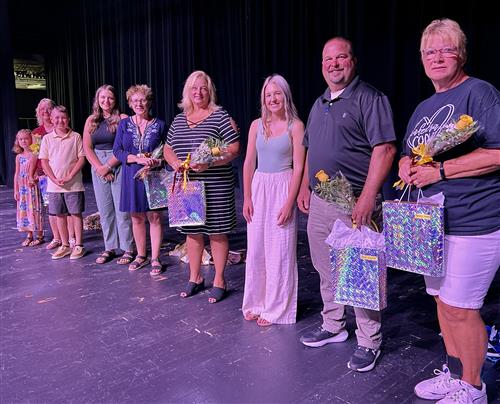 The 25-Year Honorees include (L to R) Dawn Howells, Adrienne Kolek, Carolyn Kremer, Dan Krynicki and Tammy Jones. Student escorts were Dawn's grandchildren, Brantley & Bayley Kilgore, Senior Class Treasurer Morgan Kuniak and Senior Class President Kaylee Demharter.