Return to Headlines
5th Graders Honored as Everyday Heroes
04/27/2023
Fourteen Highlands Middle School 5th graders were recognized as "Everyday Heroes" by District Judge Carolyn S. Bengel during a special assembly on Friday, April 21.
At the beginning of the event, Judge Bengel, who is a member of the Optimist Club of Allegheny Valley that sponsors the Everyday Hero program, announced that the club voted unanimously to change the name of the program in memory of a local everyday hero, the late Brackenridge Police Chief Justin McIntire, who was killed in the line of duty on Jan. 2, 2023.
"We can honor the Chief by being the best person we can all be," said Bengel. "That's what this program is all about - respect, responsibility and good citizenship," she said. Also in attendance to congratulate the students were Chief McIntire's widow, Ashley, son JJ, and Brackenridge Police Sgt. Mike Duffy.
One boy and one girl in each of the 5th grade homerooms were selected by their peers to receive the Everyday Hero award. According to the feedback from the fifth graders, an Everyday Hero should be respectful, accountable, motivated, safe, responsible, helpful and encouraging. In addition, the hero is not a bully, is a good citizen, has good manners, gets along with everyone, is on time for school and is quiet in the halls.
Middle School Principal Becky Bragan, Assistant Principal Cory Sakolsky, Dean of Students Katie Jo Stobert and the 5th Grade Teachers also assisted with the program nominations and assembly.
The Everyday Heroes will be featured individually in the Valley News Dispatch / Trib-Review, which is one of the partners of the program.
Congratulations to the recipients of the Optimist Club of Allegheny Valley Everyday Hero Award in Memory of Chief Justin McIntire!
Mrs. Hartle's Homeroom: SHA'NIYAH CASTRO & EMMETT JOHNSON
Mr. Cale's Homeroom: KYMBERLIE NGUYEN & TIMOTHY CONNELLY
Mr. Bennis' Homeroom: NORA McCORKLE & ELIJAH IRVINE
Mr. Mason's Homeroom: RYLIE FOX & REMY CARNAHAN
Mrs. Sheilds' Homeroom: FAITH YONKOSKE & MASON SHAFFER
Mrs. Coulter & Mrs. Jodon's Homeroom: KALIYAH WALKER-LINNEN & SAM KUHN
Mrs. Zolinas' Homeroom: LUCA CHIUSANO & ISABELLE RICHARDS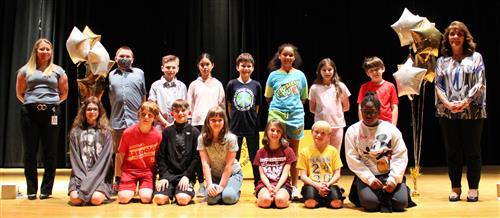 FRONT ROW: Isabelle Richards, Luca Chiusano, Mason Shaffer, Faith Yonkoske, Rylie Fox, Remy Carnahan, Kaliyah Walker-Linnen
BACK ROW: Principal Becky Bragan, Sam Kuhn, Timothy Connelly, Kymberlie Nguyen, Emmett Johnson, Sha'niyah Castro, Nora McCorkle, Elijah Irvine, District Judge Carolyn Bengel
Valley News Dispatch Article: