Return to Headlines
Visitation, Funeral & Procession Finalized for Chief McIntire
Visitation and funeral arrangements have been finalized for Chief Justin McIntire. A complete obituary is listed below.
Tuesday, January 10, 2023
Ross G. Walker Funeral Home Ltd.
FUNERAL SERVICE
Wednesday, January 11, 2023
Freeport Road, New Kensington
FUNERAL PROCESSION
Following the noon ceremony at Mount St. Peter's Church on Wednesday, the procession will travel the following route:
Freeport Road to Tarentum Bridge Road.
Left onto Tarentum Bridge Road traveling northbound.
Exiting southbound on Tarentum Bridge via the First Avenue ramp.
Traveling on First Avenue, turning left onto Morgan Street.
Continuing to Freeport Road
Turning right onto Freeport Road and continuing to Mount Airy Cemetery.
Those who wish to pay their respects may line the processional route.
Rolling road closures will extend throughout the route.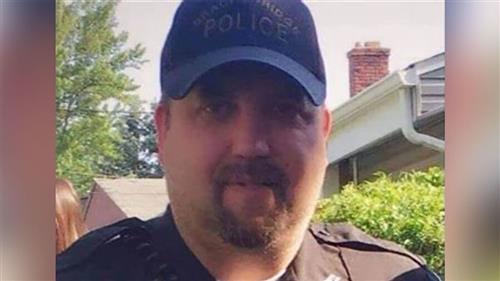 Chief Justin McIntire
Chief Justin McIntire, of the Brackenridge Borough police department, 46, was killed in the line of duty Monday, January 2, 2023, in Brackenridge. He was born December 27, 1976, in Harrison Township to Emma "Lori" Lorraine Clark McIntire and John L. "Lee" McIntire of Brackenridge and was a lifelong resident of the Brackenridge area. A police officer for the past 22 years, he was appointed chief in 2019. Chief McIntire was a dedicated police officer. He was a 1994 graduate of Highlands High School and was also a graduate of the Allegheny County Police Academy in North Park.
Justin was a member of the Fraternal Order of Police Lodge #39, Oregon Hunting & Fishing Club and the South Buffalo Township Sportsmen's Club. He was a member of the National Rifle Association and was a certified NRA firearms instructor. He enjoyed cooking, hunting, fishing, and loved Camp Huckabuck. Justin was an avid NASCAR, Pittsburgh Steelers and Pittsburgh Penguins fan.
Justin was preceded by his sister Heather Jane McIntire; maternal grandparents Clarence L. and Emma J. Clark; and paternal grandparents John Lee and Lois Jane McIntire. In addition to his parents Emma "Lori" McIntire (Carlo Cimino) and John "Lee" McIntire (Erin), survivors include his wife of 9 years, Ashley McIntire; son Jordan McIntire; son Justin Clark, Jr. "JJ" McIntire; daughter Alexis McIntire; and stepson Brennin Mann; sister Tiffany (Matt) Black; brother Brandon (Jess Robinson) McIntire; half-brothers Andrew (Kaylie Melnick), Aidan (Kami), and Declan McIntire; mother-in-law Traci (Patrick) York; father-in-law Scott (Lorrie) Eiler; brother-in-law Josh (Nicole) Eiler; aunt Lois J. McIntire-Hollis; best friend Mike (Janene) Pacek; and numerous nieces, nephews, cousins, and aunts.
Friends will be received from 2 to 8 p.m. Monday, January 9 and Tuesday, January 10, at the Ross G. Walker Funeral Home, Ltd., 217 Freeport Road, New Kensington, PA, 15068. A funeral service will be held Wednesday, January 11, at 12 noon at Mount Saint Peter Church, 100 Freeport Road, New Kensington, PA 15068. Burial will follow at Mount Airy Cemetery, 2800 Old Freeport Road, Natrona Heights, PA 15065.
The FOP will conduct memorial services at 7 p.m. Tuesday in the funeral home. Donations may be made for the benefit of the Justin McIntire family, c/o Fraternal Order of Police Lodge 39, P.O. Box 2145, Lower Burrell, PA 15068. Check memo line should read "for the benefit of Justin McIntire".