Return to Headlines
Middle School Implements the House of RAMS, New Team Names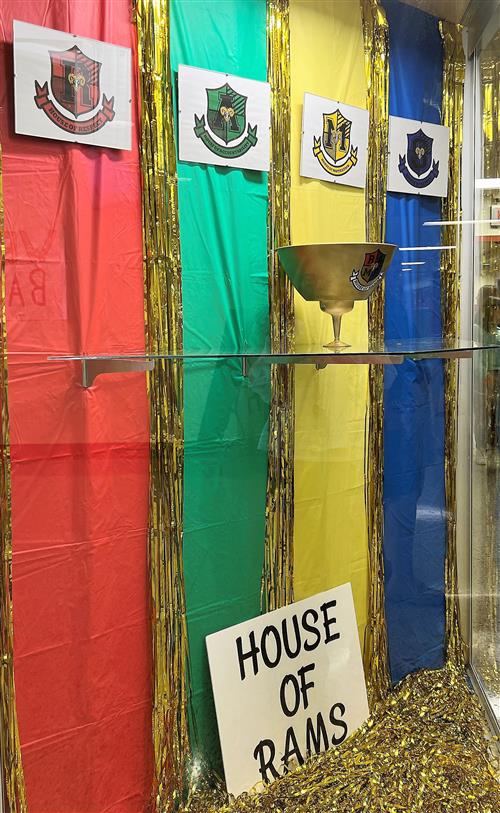 This year, Highlands Middle School staff and students are going by a new name – the House of RAMS! As members of the House of RAMS, Middle School students and staff will work together to foster positive relationships and a sense of pride and community in their school using the RAMS values of Respect, Accountability, Motivation and Safety.
Within the House of RAMS, each grade level also represents its own individual House and Teams. The team names were derived from the house names in other languages.
5th Grade - The House of Respect
Team Dignatio & Team Amicus / Team Color: Red
6th Grade - The House of Accountability
Team Accomptare & Team Officium / Team Color: Green
7th Grade - The House of Motivation
Team Inspiro & Team Motivare / Team Color: Yellow
8th Grade - The House of Safety
Team Palekana & Team Securitas / Team Color: Blue
"It is so exciting to see the changes at the Middle School," said 7th grade math teacher and PBIS coach Ms. Kaitlyn Selfridge. "Students in every grade level are really able to identify with a part of RAMS and take ownership of being a positive role model for success in the classroom and hopefully the community too," she said.
During the first week of school, students were introduced to the new quarterly House Cup Competition, which will be a fun and exciting way to recognize students for following the RAMS expectations. All staff members will have House of RAMS Tickets to regularly award to students who demonstrate the RAMS expectations. Each quarter, the four Houses will compete to win the House Cup Competition. Throughout the quarter, the students in each grade will collect RAMS Tickets for their House. The House with the most RAMS Tickets at the end of the quarter will win the House Cup Reward Event. "I know we are all excited to see what the students will accomplish this year and look forward to having fun with them," said Ms. Selfridge.
The Highlands Middle School Administration and PBIS Team put a lot of thought and planning into the House of RAMS concept, which has been met with a lot of positivity and excitement from students and staff so far! "It has been wonderful to watch all the teachers' hard work and summer planning come to life with the students this year," said HMS Principal Becky Bragan. "It is only the beginning, and I can't wait to see what our students will achieve within the new culture we have all created!" she said.
In the above photo gallery, students learn about the new House of RAMS, take a group photo on the Golden Rams Stadium field, and try to win some shirts during a T-shirt toss.