Return to Headlines
Highlands Celebrates 54th Annual Commencement
06/06/2022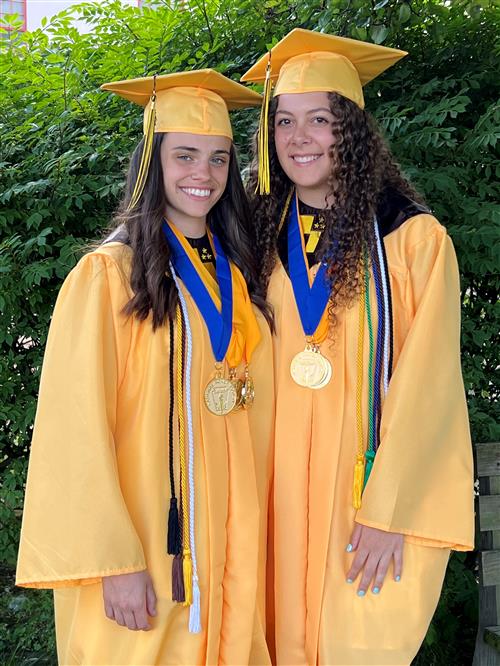 On a beautiful blue-skied-and-sunny Friday evening, Highlands High School celebrated the Senior Class of 2022 at the 54th Annual Commencement with a traditional outdoor ceremony at Golden Rams Stadium on June 3, 2022.
The HHS Concert Band, under the direction of Mr. Matthew Beresik, started the ceremony with the familiar "Pomp and Circumstance" as the members of the Highlands High School Class of 2022 marched into the stadium. The Pledge of Allegiance was delivered by Senior Class Secretary Miss Fatama Hassanein Shareef, followed by the Invocation given by Senior Class Treasurer Miss Allison Love. High School Principal Dr. Laura Burns introduced the guests on the stage and welcomed those in attendance.
Superintendent Dr. Monique Mawhinney delivered a heartfelt message to the seniors, and Miss Shareef presented the Class Gift, which was a donation to the Strong Hearts Strong Players Foundation, established in memory of Class of 1995 alum Greg Wells. The foundation's goal is to equip all youth sports facilities with an AED.
Following the presentation, Miss Allison Love was officially recognized as the Class of 2022 Salutatorian (at right in photo). She plans to attend the University of Rochester to pursue a degree in engineering. Miss Maria N. Fabregas was announced as the Class of 2022 Valedictorian (at left in photo). She will attend the University of Pittsburgh for nursing. School Board Vice President Mr. Gene Witt accepted the books chosen by Miss Love and Miss Fabregas that will be placed in the High School library in their honor.
Miss Allison Love and Mr. Jake Thomas Peters were selected to deliver the traditional Commencement Address entitled, A Conversation for Many. After the Address, the HHS Choir senior members sang "Together We Are One" under the direction of Mr. Michael Zeiler, HHS Choir Director.
Dr. Burns certified that the members of the Class of 2022 met all requirements for graduation, Superintendent Dr. Monique Mawhinney accepted the class for graduation, and School Board President Mrs. Bobbie Neese confirmed the granting of diplomas. Senior Class Co-Presidents Mr. Kristofer William Laser and Mr. Daniel G. Thimons announced the members of the senior class as Dr. Burns, Dr. Mawhinney and Assistant Superintendent Dr. Cathleen Cubelic participated in the granting of diplomas.
The ceremony concluded with the Benediction by Senior Class Vice President Miss Hadley Anne Collins, the Alma Mater by the HHS Honors Choir, and the validation of graduates by Dr. Mawhinney. The graduates moved their tassels on their caps to the left, over their hearts, followed by the traditional cap-throwing into the air!
The Highlands High School Graduating Class of 2022 comprised 150 seniors. In a self-reported student survey of 130 seniors, 73% are pursuing post-secondary education (college, nursing/medical, trade school); 12% have an apprenticeship or employment; 4% are going into the military; and 11% are undecided.
CONGRATULATIONS TO THE HHS CLASS OF 2022!