Return to Headlines
Highlands Students Celebrate International Education Week
Article by Señora Proaño
In celebration of International Education Week (November 15-19), six Highlands AFS Exchange Students shared about their countries and cultures with the Highlands High School World Language and World Cultures classes on Thursday, November 18. International Education Week is a joint initiative of the US Department of State and the US Department of Education that celebrates the benefits of international education and exchange worldwide.
Our six Highlands High School exchange students are:
Mr. Mohamed Jaouadi from Tunisia (hosted by the Majocha family)
Mr. Kalle Lammert from Denmark (hosted by the Ochoa family)
Ms. Anjulie Mogk from Germany (hosted by the Ochoa family)
Ms. Chiara Maioli from Italy (hosted by the Adolph family)
Ms. Elba Moreno from Spain (hosted by the Bollinger family)
Mr. Francesco Vicariotto from Italy (hosted by the Harenski family)
These extraordinary students shared about school life, food, pop culture and more. Mohammed from Tunisia impressed everyone by introducing himself in four languages (Darija, Arabic, French and English) and by helping students to write their name in Arabic, a language they learned is written from right to left. The exchange students also explained why they decided to study in the U.S. In addition to practicing English, Anjulie from Germany noted that she wants to improve her job opportunities, experience a different culture and become more self-confident. In reflection of their exchange experience so far, Chiara from Italy and Elba from Spain shared their appreciation for the politeness and kindness that everyone has extended to them here. Kalle from Denmark and Francesco from Italy expressed how much they love the sport culture and extensive school-affiliated activities at Highlands. (Scroll through the photo gallery below!)
All of the students and teachers greatly valued this meaningful cultural exchange. One Spanish I student commented, "Yesterday was the best day. I liked learning about how they live." World Cultures teacher Mrs. Melczak said, "I thought it was great for students to be exposed to other cultures and meet students who have a different perspective."
Thank you to the inspiring AFS exchange students and continued dedication of AFS coordinator Kathy Harenski! For more information about international education and exchange, visit the AFS website.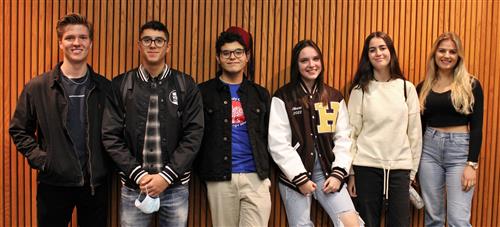 Highlands AFS Exchange Students Kalle, Francesco, Mohamed, Chiara, Elba, Anjulie