Return to Headlines
HHS Seniors Learn to Become "Future Ready" at Penn State Readiness Institute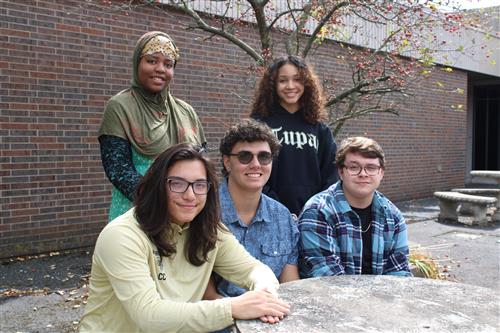 Front Row: Ronald Ratliff, Alex Denny, Conner Best; Standing: Fatuma Salat, Ahmonti Ondo
Highlands High School seniors Conner Best, Alex Denny, Ahmonti Ondo, Ronald Ratliff and Fatuma Salat had the unique opportunity to participate in Penn State's inaugural Readiness Institute Program this summer.
Funded by The Heinz Endowments, the Readiness Institute Summer Program is a six-week paid experience for rising high school seniors that helps them become community and future ready. High School Counselor Dr. Susie Gurrera helped connect the students to the opportunity. During the program, Conner, Alex, Ahmonti and Ronald were able to establish relationships, participate in essential skill workshops, complete projects that address real-world problems, and create personalized road maps for their future success.
Program Manager Emma Hance recognized the efforts and contributions made by our students during the summer program. "We were so impressed by all four students," she said. As part of the program, they participated in a day of service by volunteering at a community garden in the Hill District. "The woman who started the garden pulled me aside to say that she was really struck by Alex and Conner's hard work and eagerness to help," said Hance. Additionally, during an off-site visit, student groups visited the Saturday Light Brigade to learn about podcasting and create and record their own short podcasts. "The staff at SLB was so impressed with Ahmonti's group that they were invited back to host two episodes of Remake Learning's Remaking Tomorrow podcast," said Hance.
One of the main goals of the program is for participants to gain an improved sense of self and be better able to answer the following questions: Who am I? Who do I want to become? How do I get there? How will I continue to learn? How will I give back to my community?
Conner, Alex, Ahmonti, Ronald and Fatuma will have continued access to support, including mentorship, additional learning experiences, and peer networking through the Readiness Institute.