Return to Headlines
Highlands Celebrates Homecoming on Oct. 15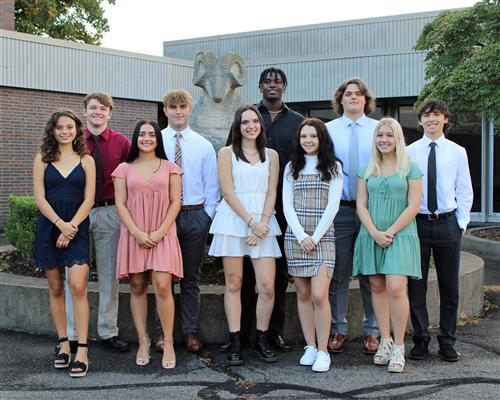 Congratulations to the Highlands High School 2021 Homecoming Court!
Abby Watts, Gionna Allias, Chiara Maioli, Cammy Carnahan, Maddie Kane
Eddie Ripple, Dan Thimons, Caliel Long, Tanner Nulph, Ethan Hewitt
Please join us on Friday, Oct. 15 for our Homecoming festivities!
PARADE & GAME
The parade is at 6:00pm, followed by a 7:00pm Rams vs. Armstrong football game, and the crowning of our King and Queen at halftime! The parade route begins at the High School, runs down Idaho Ave. to Broadview Blvd., then turns onto Dallas Ave. and then down Pacific Ave. toward the stadium. We invite all community members to support the parade. Make sure you bring your appetite – the Gridiron Club arranged for food trucks to be available in the parking area near the Middle School gym between 4-8pm. It is also Pink Out! Wear your PINK or your "Change for Cancer" shirt in support of breast cancer awareness month. The last King and Queen to be crowned was prior to the pandemic in 2019.
HHS HOMECOMING DANCE
A Homecoming Dance for Highlands students in grades 9-12 will be held in the High School Courtyard on Saturday, Oct. 16 from 7:00-10:00pm., weather permitting. Students are encouraged to dress for the weather. Students attending the dance should enter the school at the student parking lot entrance for security screening prior to entering the courtyard. Only students who have previously purchased tickets will be admitted. No tickets will be sold at the door. Screening begins at 6:45pm. No students will be admitted directly into the courtyard. Students should bring a mask for any time that they are in the building (i.e. security screening and restrooms). The dance will conclude promptly at 10:00 PM. In case of severe weather, the High School Administration may cancel the dance. Communication will be made through email and phone call.
FOOD TRUCK FRIDAY IS BACK for HOMECOMING!
Come out between 4-8pm for a great environment and tailgate atmosphere along with multiple food trucks for some great eats and some great high school football! The Golden Rams will be hosting the Armstrong RiverHawks in a Key Greater Allegheny Conference matchup. Vendors listed below with possible additions as we get closer to the event.
The Halal Gyro Guys
Little C's Concessions
Sonny's Smorgasbord
Main Squeeze
RYFO Funnel Cakes
Kona Ice
DJ Steaks
Harvest Moon Coffee & Chocolates
Good As Hale Jars & Plates
Highlands High School Homecoming Spirit Week Theme Days