Return to Headlines
HHS Art Teacher, Students Awarded Online Course Scholarship, National Recognition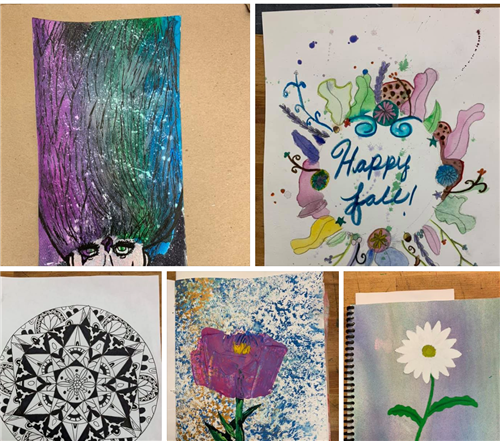 When Highlands High School Art Teacher Mrs. Teresa Emeloff became immersed in the Willowing Arts online course LifeBook 2019 for her personal and professional enrichment, she was inspired to share her passion for this unique course with her Printmaking & Mixed Media art students.
In an effort to provide the LifeBook course to her students, Mrs. Emeloff applied for -- and was awarded -- a classroom scholarship through the team at Willowing Arts and course leader Tamara Laporte. The scholarship covers the fees for the LifeBook 2020 online course for 15 students! An internet-based course, LifeBook features videos of mixed media art lessons/classes with experienced art teachers and well-being educators from all over the world.
"I am so grateful and excited to share the magic of LifeBook with my Printmaking & Mixed Media students," said Mrs. Emeloff. "Since viewing a portion of Tamara's Summit online videos, my students are inspired to learn more about mixed media and do more art journaling," she said.
Although the scholarship covered the fees, the students still needed about $1,900 in art supplies for the class. "Mixed Media courses require some unique and unusual materials that are not necessarily common to a high school art room and maybe perhaps unique to the needs of the student's individual project and idea," said Emeloff. The fundraising effort was coordinated through DonorsChoose.org and shared with the Highlands and Willowing Arts communities.
In a little over a month, the DonorsChoose request for art supplies was fully funded through 49 donors! British artist Tamara Laporte's feature about Mrs. Emeloff and the class in her international newsletter and on her social media pages was a key factor in helping the project reach goal in quick fashion. The class received donations and well wishes from all over the United States (including Alaska), Canada and the United Kingdom (see comments below).
Mrs. Emeloff is grateful for the outpouring of generosity, and is excited for her students' journey with LifeBook 2020. "I've already posted a few of the student artworks in the LifeBook 2020 Facebook group and they have received feedback from the artists who inspired them. This flipped classroom format is giving the students so much choice and real life interaction - I love it!," said Mrs. Emeloff.
Check our website in the coming months to see more of our students' LifeBook 2020 artwork!
---
Comments and well wishes from the donors:
"I always wanted to be an artist. I never had such a lovely teacher as Mrs. Emeloff. Work hard and never give up on your dreams to be the best artist. I love art and it has made my life so much brighter..." - Laura Langley, Chicago, IL
"Creativity is the soul's language! Have fun giving your soul a voice." - Andrea Miller, California
"This is my first year participating in LifeBook and it's an incredibly supportive environment. I know these students will benefit tremendously from the course. I'm so happy to support these future artists. Mrs. Emeloff, your students are so fortunate to have your encouragement at this crucial time in their lives." - Kyle Oliver, Durango, CO
"Make sure your students know it doesn't have to be a masterpiece to be art. They won't be happy with everything they do, but if it makes them feel good and they had fun doing it, that is the most important thing..." Katherine Kinnavy, NC
"Keep creating art and make it fun. Music, cooking, photography, crafts, painting and watercolor is creating art in your own unique way. You are indeed special. Believe it. Live it. Dance! Dancing is art too. Celebrate art together! High Five from the largest state! Alaska is my home!" - Roberta Urena, Anchorage, AK
"That is so amazing that your project got funded so quickly - the power of a small group of committed people who come together with shared purpose, in this case to do LifeBook, can never be overestimated. I love that we will all benefit from the youthful creative energy from you all, it will juice our field so much that we will all be buzzing..." - Frances Barker, United Kingdom
---
Images of the article featured in the international newsletter: