Return to Headlines
Students, Staff Honor School Board for Recognition Month
At the January 20 Highlands School Board Meeting, Superintendent Dr. Monique Mawhinney, along with students and staff, presented the Highlands School Board of Directors with gifts of appreciation and student-designed and created projects for their dedication and commitment to serving the Highlands community in honor of January's National School Board Recognition Month.
Highlands Middle School 7th/8th grade art students created portraits of each of the nine Highlands School Board of Directors. The portraits incorporated a number of projects included in the Middle School art curriculum. The students used Typography and Posterization processes to design and create the portraits, using real photographs for reference. All of the Middle School art classes were integral in the development of a list of words that they associate with Highlands: Home, School, Community, Rams, Pride, Respectful, Accountable, Motivated, Safe, Gold, Brown, Golden Rams, Amazing, Hard Work, Happiness, Honesty, Awesome, Determined, Friendship, Positivity. Some of these words were incorporated into the portrait's typography to create the image. Students who contributed to this project were 8th graders Mandy Luu, Anna Dugas, Alexis Thompson, Julius Saunders, Dashanae Beard, Brionna Witherspoon and Harlem Ware and 7th grader Izzy Dickson. Art teacher is Mr. Dan Surovchak.
Highlands Elementary School students made an abundance of thoughtful Thank You cards, which were presented to the board by several elementary students. Mrs. Trish Meldon's first grade class made a thank you video (below). Highlands High School's Tech Ed students, under the leadership of teacher Mr. Mike Santucci, made each board director a hat / utility rack using the wood shop and CNC machinery. Also offering words of thanks and tokens of appreciation at the meeting were representatives of the Highlands Education Association, Highlands Support Staff and the Highlands Administrative Team.
The nine members of our School Board of Directors include Misty Chybrzynski – President; Bobbie Neese – Vice President; Kristie Babinsack, Debbie Beale, Robert Betts, Laura Butler, Kelli Canonge, Gene Witt and Judy Wisner. They are all a key part of the district's administrative team, making informed decisions that shape public schools and provide a pathway to success for every student. On average, school directors, who are unpaid, devote about 10 hours per month to the challenging and complex responsibilities of board business, including adopting policy, voting on budgets, evaluating school security issues and reviewing hiring decisions.
Thank you, Highlands School Board!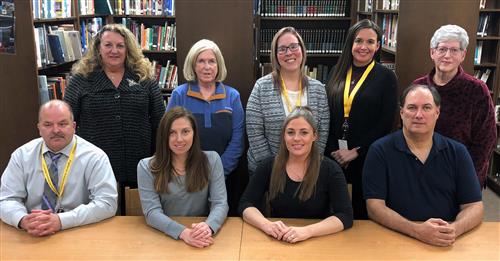 2020 HIGHLANDS SCHOOL BOARD OF DIRECTORS
Robert Betts, Bobbie Neese (Vice President), Misty Chybrzynski (President), Gene Witt
Debbie Beale, Laura Butler, Kristie Babinsack, Kelli Canonge, Judy Wisner