Elementary Students "Stick With Reading" Drive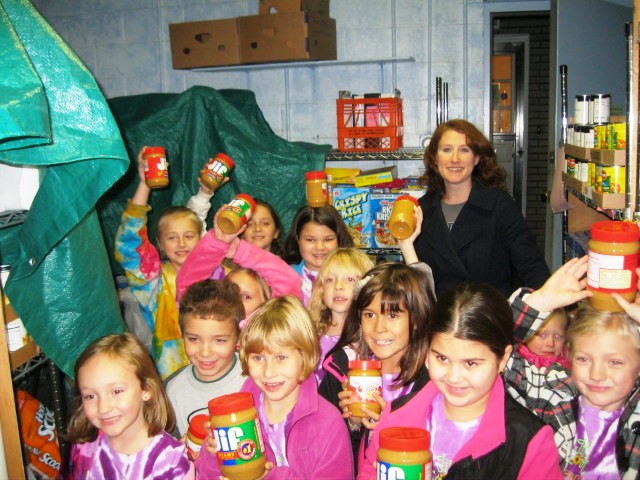 Highlands School District elementary students donated 375 jars to a
"Stick with Reading" Peanut Butter Food
Drive
to benefit the local Allegheny Valley Association of Churches food bank from
Nov. 1 through Nov. 11, 2011
.
Elementary Librarian
Mrs. Laurie Malcolm
sponsored the drive.
Local Girl Scout Group #58406 helped carry the peanut butter into the food bank during their field trip there. Melissa Danielson, director of the food bank, told the troop that there are 453 households being served by the bank. She estimates that the peanut butter donated by the students will last approximately one month. (Melissa is pictured in the photo at left with the Girl Scouts.)
A Kindergarten student,
Ava Acieno
, and her mother went door-to-door in their neighborhood requesting donations. As a result, Ava was able to add 18 more jars! Fairmount parent, Dusty Grantz, invited her team of
Tastefully Simple
representatives to donate a jar.
"The price of peanut butter is expected to rise significantly in the coming weeks. This is due to the fact that the peanut crops were ruined from the severe drought in our southern states," said Malcolm. "Our local food bank is always in need of peanut butter."
Students who donated a jar of peanut butter entered a raffle to win a gift basket of books and fun school supplies. Questions may be directed to Mrs. Malcolm at
lmalcolm@goldenrams.com
. Thank you for your support!
Originally published November 1, 2011