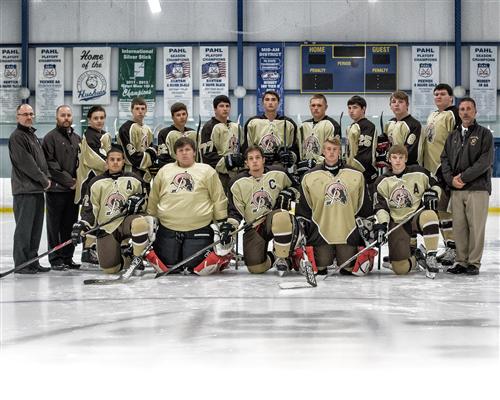 The Highlands Golden Rams continued the success the team has shown since its rebirth, once again finishing with a positive record in the 2015-16 season.
The Highlands Hockey senior class which ended with three monograms since the return of the sport -- Mason Scherer, Chad Swartz, Dante Hill, Matt Nolker, Noah Hetler and Andrew McCoy -- completed their high school careers with a winning record. The Rams ended the 2015-16 season with a 9-9-0 regular season record, then lost a heartbreaking game in the sectional semifinal to Peters Township in sudden-death overtime, after knocking off Baldwin in the first round.
Chad Swartz ended his Highlands career with 30 goals and 40 assists, finishing 15th in our level in PIHL in scoring in his senior season. Dante Hill had 12 goals and 16 assists for his three years in Brown and Gold, while Mason Scherer had 9 goals and 16 assists from his usual defensive position. Matt Nolker and Noah Hetler will be missed for their shutdown defense, while Andrew McCoy had a habit of popping up with key contributions. The Rams will also say goodbye to seniors Kevin Koblinsky and Kylar Watterson, who lettered in their final year.
The 2016-17 Golden Rams will be led from the back, where senior goaltender Shane Kramer returns for his third season. Senior co-captain Mason Prill will be a leader from defense in his fourth year with the team, and senior Nick Hilliard is also expected to contribute. The defense will also be bolstered by captain Caleb Black and Sean Contreras, both juniors, as well as freshman Jayden Yawkey.
The offense is a young group, led by sophomore Dalton Swartz, who was 13th in scoring in PIHL in his first season. Making their debut on the team will be freshmen Robbie Singer and Avery Sabatini and sophomore Wes Deemer. A pair of players from our co-operative relationship with St. Joseph's High School, senior Ryne Shaffer and freshman Michael Smith, will also be counted upon.
The Highlands Hockey Association wants to thank the students, teachers, alumni and the community for their incredible support of the team. Throughout the team's short history in its return, the backing has been second to none throughout all of Western Pennsylvania.
The Highlands Golden Rams hockey team is coached by Rick Lawes and assisted by Shawn Wislie and Robbie Singer (both of whom are Rams hockey alums). As a club sport governed by the Pennsylvania Interscholastic Hockey League, the Highlands hockey program is completely self-funded by players and parents.