Highlands Football Alumni Association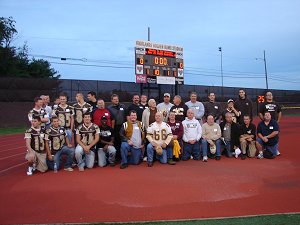 HFAA celebrates Alumni Night, Sept. 25, 2009
The kick-off of every Golden Rams football season sparks memories of camaraderie, leadership, passion and perseverance in former Highlands students who once wore the same brown and gold uniforms. At times, they cheered each other on to victory against top competition. Other times, they encouraged each other to fight harder after a devastating loss.
The days and nights spent as a team instilled qualities in every player that carry on today. Now, these former Rams watch as the next generation parades on to the field, creating moments that will last with them forever.
The Highlands Football Alumni Association (HFAA) invites football alumni to join an organization that will reconnect teammates for social, networking or simply nostalgic purposes, as well as support the young men that follow in our footsteps.
HFAA hopes to raise funds to assist in the funding of special projects or needs of the young men who share the experiences and walk the same paths as its members once did. The non-profit organization was formed in 2008 and celebrated its launch with an Alumni Night event at the Golden Rams Stadium on October 3, 2008. The varsity Rams beat Indiana 21-14 after the alumni helped form the pre-game tunnel and cheered them on from the sidelines.
To join HFAA, submit your name, graduating class, address, e-mail and/or phone number to Ms. Misty Chybrzynski at mchybrzynski@goldenrams.com or by calling 724-226-2400 or by mail to PO Box 288, Natrona Heights, PA 15065.
For more information about the project or the future of the organization, contact

Mr. Gary Weleski (Class of '70) at 724-224-3330 or by email at Garyw@weleski.com or you can contact Ms. Chybrzynski. We anticipate working with you on this project and appreciate all of your help!